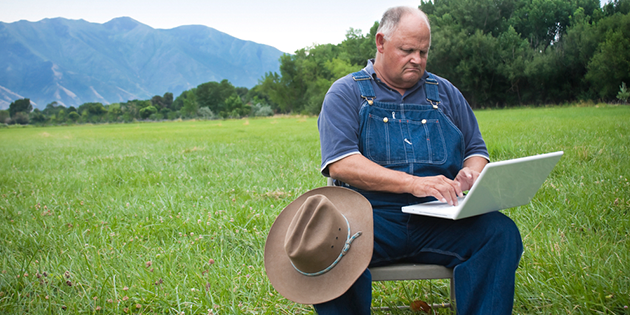 It might come as a surprise to many Ag business owners, but social media can drastically increase their number of sales leads. The key is to understand what specific aspects of social media to concentrate on. After all, social media is a broad term that encompasses many different things.
In order to make sure that your social media strategy is as effective as possible, it is important that you concentrate on what is hot right now in the world of social media. So what is hot? The following list outlines it for you:
Social Signals: When people share your content, it sends more traffic to your website. More traffic, means a higher SEO ranking. So while social media doesn't directly affect your SEO, without it your SEO can certainly suffer. The takeaway? Organic, high-quality content is more important than ever.
Mobile Traffic: Last year, mobile traffic among farmers and ranchers overtook desktop traffic in the United States and its usage shows no signs of slowing. Think of all of the time farmers and ranchers spend away from their desks and it is easy to see why mobile is so popular with them. If it isn't already, mobile needs to be one of your highest priorities.
Data-Driven Targeting: With all of the valuable insights that can be gained through social media analytics and other reporting tools, there is simply no excuse for not personalizing your marketing message to every one of your agriculture leads. Make no mistake, your competition is approaching the same farmers and ranchers that you are—and chances are they are doing it with a personalized message. Make sure you don't lose farmers and ranchers who feel another company knows them better.
Engagement Matters: Research shows that social media influences customers' buying decisions even more than retail websites. Further, the more engaged your customers are on your social media sites, the greater your sales numbers. That's why it is so important that you work to make your social media sites commerce-driven. While buying over social media is still in its infancy, the day will come when you will need to implement such strategies. Until then, engaging farmers and ranchers via social media about your products and services will make the inevitable transition much smoother.
Social media has endless potential but it requires a great deal of time and attention to do it right. This is time well spent, however, as the potential payoff is huge.
https://blog.usfarmdata.com/wp-content/uploads/2016/01/Farmer-on-Computer.png
315
630
USFarmData
https://blog.usfarmdata.com/wp-content/uploads/2019/08/Us-Farm-Data-LOGO-White-400px-PNG.png
USFarmData
2016-04-26 16:44:09
2021-03-08 17:41:35
Social Media Crucial to Ag-Based Businesses