Renting Farm Equipment May Help Offset Falling Profits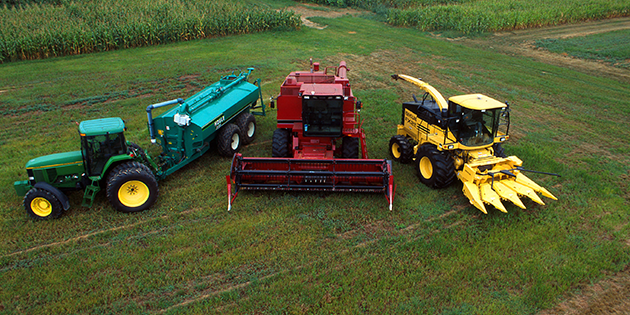 It wasn't too long ago when the thought of renting out their biggest assets would have seemed out of the question to most farmers. But with farm profits dropping, many of these same farmers are more willing to give such rental agreements a try.
Enter FarmLink, a Kansas City, Mo., company that allows farmers to rent out their unused equipment to growers hundreds of miles away who have different peak harvest seasons.
In an article by Alan Bjerga in Bloomberg Businessweek, The Sharing Economy Comes to the Farm, FarmLink's president for grower services, Jeff Dema, explains why this practice is becoming more popular.
It's Airbnb for agriculture. Farmers are examining their bottom lines and wondering if $500,000 in the shed might be put to better use.
Some benefits of FarmLink's service are that farmer cooperatives and agricultural retailers set rental terms. Further, FarmLink will transport the heavy equipment, once a huge obstacle to renting out farm equipment. FarmLink also will help with any secondary insurance that may be needed.
With commodity prices tanking and farm profits falling from a peak of $124 billion in 2013, farmers are eager for ways to squeeze more money out of their combines and other heavy equipment, which cost hundreds of thousands of dollars to buy and maintain.
Agriculture Secretary Tom Vilsack says while there is a growing effort to share farm equipment, the concept is not new. Contractors, custom harvest crews, and equipment-rental services already exist to help farmers in a pinch.
Although the concept may be appealing to some farmers, not everyone will be onboard with the program. After all, as the article states, allowing strangers to rent out such expensive equipment may still be a tough sell.
https://blog.usfarmdata.com/wp-content/uploads/2015/08/Farm-Equipment.png
315
630
USFarmData
https://blog.usfarmdata.com/wp-content/uploads/2019/08/Us-Farm-Data-LOGO-White-400px-PNG.png
USFarmData
2015-08-31 19:51:27
2021-03-08 17:41:51
Renting Farm Equipment May Help Offset Falling Profits